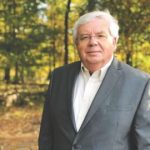 The Covington County Chamber of Commerce will be holding its General Membership Meeting on  Monday, September 16, 2019.  The meeting will begin at 6 p.m. and  will be held at Woodland Trails, 27 Dan & Joyce Lane, in Seminary.
Walt Grayson, renowned writer and broadcaster, will be the special guest speaker for the evening.
Other highlights of the evening will be the introduction of Covington County's Miss Hospitality, Larsen Sanford, the presentation of the Volunteer of the Year Award, and the transition of officers.
The cost of the dinner is $25.00 per plate.  If you plan to attend, please RSVP by Thursday, September 12.  Your check and reservation should be sent to:
Covington County Chamber of Commerce                                P.O. Box 1595 Collins, MS  39428