Greetings from Mayor Jones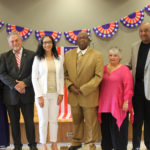 Welcome to the City of Collins!
Whether you're a newcomer or a longtime resident of our city, we are glad you are here.  We're pleased to welcome you to our website and invite you take a tour of our city government, events and news.   The City of Collins website allows you access to important information that makes living in Collins even more convenient.
From our friendly neighbors to our parks and industry, the City of Collins is a great place to live and work.  We invite you to spend time shopping in our boutiques, dining in our restaurants and enjoying small town life.
Don't forget to mark your calendars for some of Collins residents' favorite events.  In the spring it's the Okatoma Festival that draws crowds out to Main Street and the Covington County Courthouse lawn.  The streets are packed with vendors, rides and musicians for this Collins tradition.
At Christmas you won't want to miss Christmas on Main Street.  With later shopping hours, dining on Main Street and appearances by Santa Claus and friends, it's an exciting kick off to the holiday season.  Also, the Collins Christmas parade is a favorite among viewers young and old.  This family tradition happens the first Thursday in December and also kicks off Christmas in the Park.  Bettie Robertson Memorial Park comes alive with thousands of twinkling Christmas lights each weekend during the month of December.  This drive through exhibit is a tradition among many families.
The City of Collins is also home to a thriving business climate.  Whether it's Sanderson Farms, the oil industry or lumber; we welcome business to our city.
Thank you for stopping for a visit and we look forward to seeing you soon.
Hope Magee Jones
Mayor