The City of Collins, along with St. Joseph Hospice, held a pinning ceremony for veterans in the area, at the Collins Senior Center. Veterans representing the Marines Special Forces, Army, Air Force, and an Army Paratrooper, were in attendance. "Our veterans have served our country well, now it's time, we serve and honor them," said Shelia Williams, Volunteer Coordinator, with St. Joseph Hospice.
The veterans in attendance were pinned by Teddy Reed, Director of Outreach, for Mississippi Veterans Affairs.
St. Joseph Hospice is a level 5 member of the We Honor Veterans National program and holds activities for veterans and seniors on a regular basis, at the Senior Center.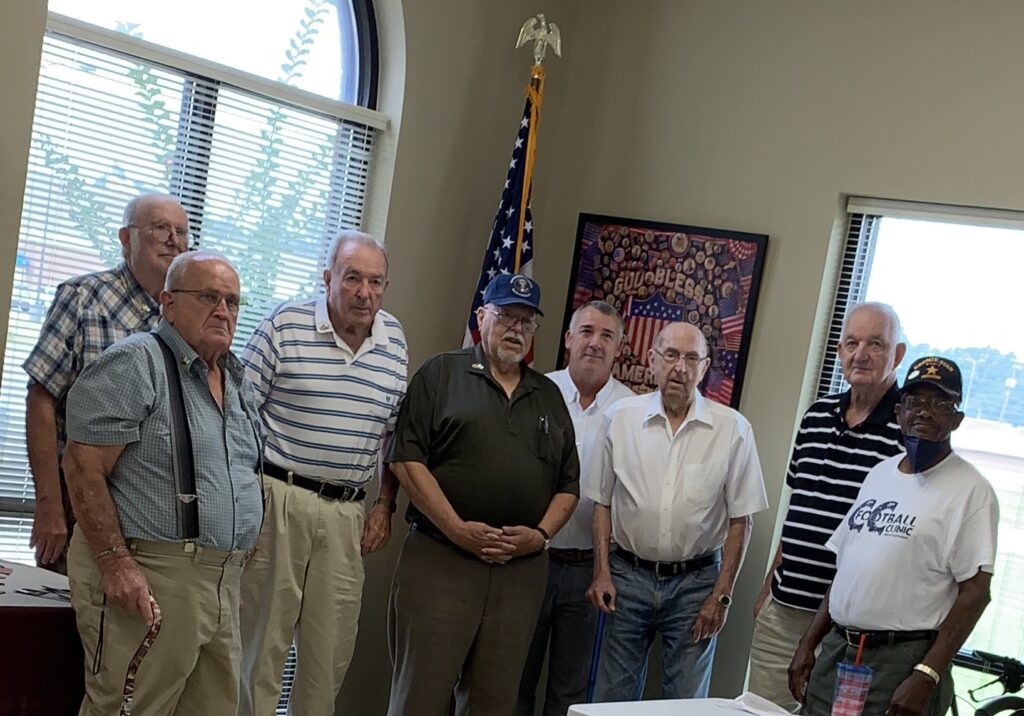 Pictured, left to right are… Virgil R. Hollingsworth, James P. Rogers, William Morris, Melvin Banks, Teddy Reed, Carlton McRaney, Harry D. Maudlin and Nelson Flowers.  
Virgil R. Hollingsworth-SGT. First Class, National Guard,1960-1999
CPL. James P. Rogers-US Marine Corp., SPL Forces, June 1960-1966
Full CPL. William Morris, US Air Force, National Guard Commission, Army Reserve, 1951-1988
Melvin Banks-US Army, Specialist E5 to Company Commander, 1966-1968
CPL. Carlton McRaney-Merchant Marines,1945-1947, US Air Force,1952-1954
Harry D. Maudlin-US Army Airborne Division Parachutist, SGT. E5, Aug. 1955-Apr.30,1962
Army Infantry SP-Nelson Flowers, Bronze Star recipient, E4 1967-1969