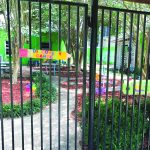 Collins Elementary School has a new interactive, educational area thanks to a group of volunteer citizens. The Discovery Garden was actually established in the 1990's when kindergarten teacher Annette Hamill and her husband, Bob, put in sidewalks and gardening grids. Their  daughter, Sherry, painted murals on the walls surrounding the area. Annette's students planted radishes and sugar cane that they could harvest and taste on the spot. WDAM came to CES and filmed the students enjoying the garden.
Over the years, the Discovery Garden had fallen into disrepair and become an unused space. In fact, for more than ten years, the garden was off-limits to the students.
One school volunteer noticed the unused area and saw the potential for the space, envisioning a fun learning spot that needed a little tender loving care. Work began in mid-July and continued through August. The inspiration came from a community garden in Bay St. Louis called Ruth's Roots. Ideas were also found on Pinterest.
Today the Discovery Garden is alive and vibrant with colorful plants and yard decorations. A "Music Wall" featuring metal scraps allows the students to make music (aka noise) with wood dowels. A "Touch & Feel" wall serves as a ta
ctile sensory board where students can experience different textures and surfaces. A faux succulent and cacti display, a photo area with pictures of insects, birds and flowers, a huge pvc xylophone, and several birdhouses and bird feeders also fill spaces in the garden.
A "Pollinator Area" filled with a variety of plants and flowers that will attract butterflies and bees is situated in a rear section. This area will be more natural and has pine needles as mulch. Cypress and bark mulch covers most other ground with pebbles covering an area that has a table and benches. Some potted plants can be found throughout the garden with hopes of adding more.
Inter
active areas include a hopscotch grid, ring toss and a tic-tac-toe game made from a wood slice and rocks painted like bees and ladybugs.
A story time area has been established where a teacher may read to the students or students may read individually. Books about nature, insects and gardens are provided in a storage tub. Currently, there are chairs for seating in the story area but plans are to replace these with tree stumps for a more natural look. Bob Shoemake, Public Works Director for the City of Collins, and his crew are cutting some felled trees for this project.
The revitalization of the CES Discovery Garden has been possible by donations and volunteers. Several people donated money, mulch, plants and yard decorations. Volunteers from Collins First Baptist Church have worked tirelessly to weed, mulch, plant and decorate the area. Plant markers have been placed around the garden so that students can learn their names.
During the recent CES Open House on September 12, an Open Garden was hosted by Sheila Fortenberry and Lane McLoud. Lemonade and cookies were served to families, and an "I Spy" scavenger hunt added to the fun. Prior to the school open house, donors were invited to tour the garden to see the marvelous results.
Plans f
or the future are to keep adding plants and changing decorations to celebrate the different seasons and holidays. Hopefully, these additions will keep students interested and add to their enjoyment.
As with any garden, upkeep is crucial. CES Beautification Committee members have agreed to maintain the Discovery Garden.