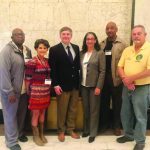 City Officials attend MML Mid-Winter Conference
City Officials for Collins attended the 2020 Mississippi Municipal League Mid-Winter Conference on January 15, 2020.
The Mississippi Municipal League is the Official Non-Profit private organization of Cities and Towns of Mississippi. MML lobbies the state and federal legislatures, provides education for municipal elected officials, provides technical support, represents municipalities with public and private entities, and is a networking media for municipal members.
From left:  Alderman Robert Thompson, City Clerk Suzette Davis,
Senator Joey Fillingane, Mayor Hope Jones, Alderman Lester Magee and Alderman Pro-Tem Bobby Mooney.